Temper® expands adjustable spacer product line
Temper® Corporation now expands our line of Temper® Load Ring constant force adjustable spacers with high force spacers with hardened faces, at Rockwell C60 hardness(Patent Pending). The compressible spacers are manufactured to load ratings from 25,000 lbs to 100,000 lbs capacity.
Materials and hardening process will vary depending upon needs of the specific application. Important in applications where surface wear is of concern.
Engineers of powertrain assemblies for on-road and off-road commercial and military vehicles, agricultural equipment, and other products can turn to Temper® for cost saving solutions.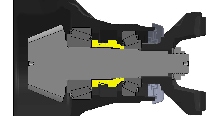 The diagram to the right shows tapered design of hardened Temper® Load Ring between the bearings in a powertrain carrier assembly.
Temper® Load Ring constant force adjustable spacers absorb the stack of axial tolerances in assemblies, and set the bearings to precise targets. Eliminates shimming and all guesswork that goes with it.
Temper® Load Rings have been employed in a wide variety of powertrain applications since the 1970s.
Call us today at 518-853-3467 to discuss your potential applications!